Wherever we look there's something not quite true about erectile dysfunction. Despite ED actually being a very common problem for many men, there are still some myths floating around about the condition. The truth of it is, most men experience erectile issues at some point in their lives.
Whether it's 'what age does ED start?' or wondering what the percentage of men with ED is, it's not unusual to have questions and concerns regarding issues down there.
So, what better way to get some erectile dysfunction facts out there, than to debunk some common myths?
Myth #1 – ED is a part of ageing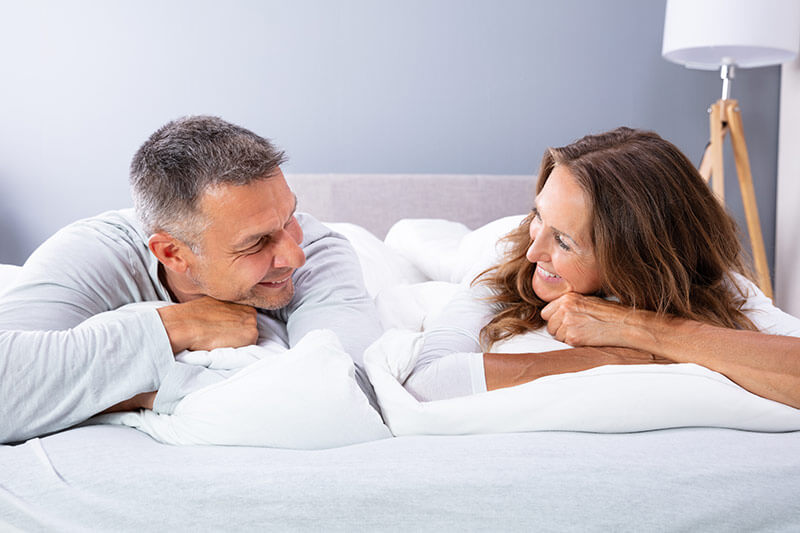 While there may be a few things we naturally expect as we age – such as dodgy knees or random aches – erectile dysfunction isn't a normal part of ageing. Although ED is more common in older men, if you're wondering what age ED starts, there is no definitive age.
Erectile dysfunction can affect men of all ages, however, it's important to remember that whether you're 25 or 85 – it's treatable.
Also Read: Erectile Dysfunction Exercises – Natural Ways To Overcome ED
Having erectile dysfunction isn't simply an experience you have to live with. Naturally, it may take more to get the flag up the pole when you're older (compared to your testosterone-driven teens for example!), but sex can still be enjoyed at any age.
And that leads us on to our next point…
Myth #2 – Erectile dysfunction is an older man's issue
Sure, erectile dysfunction and age are a hot topic, but it doesn't just affect older men. This is a pretty common misconception when it comes to erectile dysfunction!
While many men dread the thought of ED issues, wondering 'what age does erectile dysfunction start?' – But in reality, as we mentioned above, there is no point where ED just happens. And although many anxiously wait for erectile dysfunction to start, the truth is, it's not just an older man's problem.
That's not to say that ED will strike in your 20s or 30s, for example, but more so that if you are experiencing problems at a younger age – it's pretty common!
If you are at the younger end of the scale and experiencing erectile issues, remember, you're not alone! A large percentage of men with ED are actually younger than you think.
There are a number of health factors that can increase your risk of developing ED, such as obesity, diabetes, heart disease, kidney disease and high blood pressure. As well as changing, or starting a new medication.
If you've recently changed/started a medication, ED can be a potential side effect. It's always best to speak to your GP for the best possible advice.
Myth #3 – The inability to get it up must mean it's ED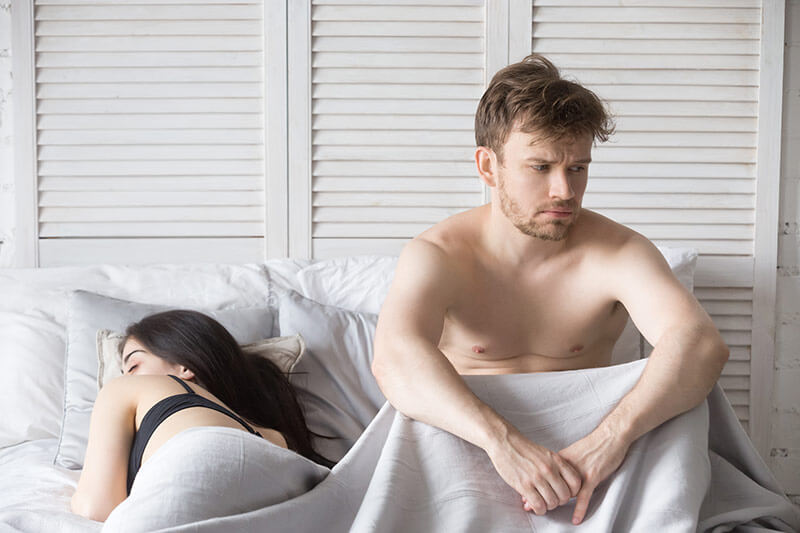 Here we go, another popular ED myth! Although we'd love the ability to, we can't actually always have sex on demand. You know, some days I just don't feel particularly sexy, or confident enough to get it on.
Also Read: Natural Male Enhancement Foods That Can Boost Your Libido and Erections
It's natural for personal problems, work stress and anxiety to play on our minds, stopping us from feeling frisky. Or on some days, a headache is enough to opt for sleep instead!
The pressure to perform alone can be enough to stop us getting it up. When there are other things going on in your life, it's easy to find that your mind is elsewhere. Or, if you've had a few too many to drink, whiskey dick can be a common occurrence!
Those odd moments of falling soft don't necessarily mean you have erectile dysfunction.
Yep, myth debunked!
Myth #4 – Younger men don't have erectile dysfunction, ever
With a large percentage of men with ED, it would be totally crazy to take younger men out of the equation. While erectile dysfunction and age is a common question, there are instances where younger men may experience issues down there, too.
Of course, naturally, ED is more common in older men. But that doesn't mean that younger men will never experience any erectile problems.
Myth #5 – If you can't get it up, there's no sexual attraction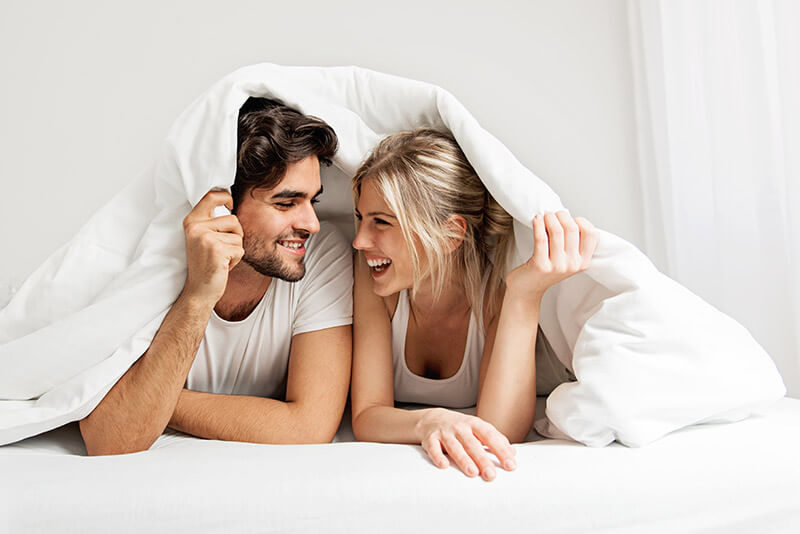 If you've experienced the inability to get it up, it can be easy to think it's a sexual attraction issue! This is yet another ED myth!
While we cannot write off a lack of sexual attraction entirely, the chances are it's related to something else.
There are a number of things that can cause erectile issues, including:
Your hormones
Diabetes
Some medications (including those for anxiety, blood pressure and depression)
Nerve disorders (such as Parkinson's)
Problems with your mood, such as anxiety, stress and depression
Heart issues
Smoking and drinking too much alcohol (whiskey dick!)
Some types of prostate and bladder surgery
Myth #6 – Erectile dysfunction cannot be cured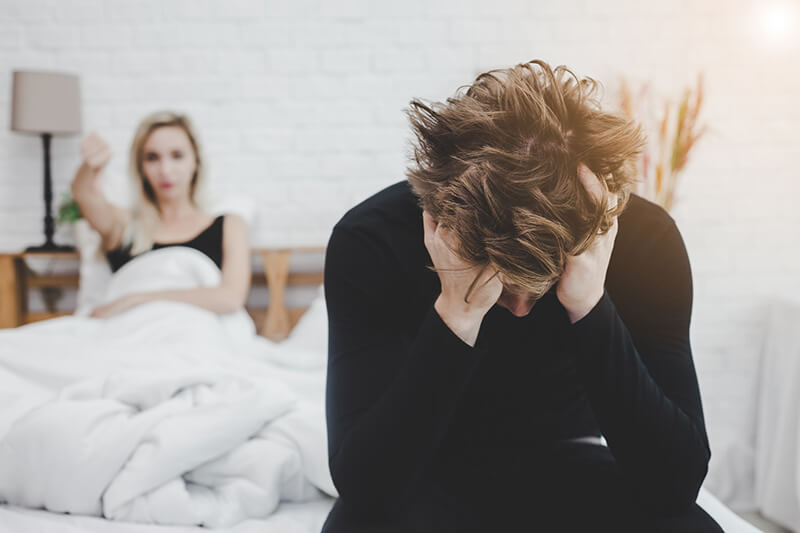 This is a pretty scary erectile dysfunction myth! When men wonder whether ED is curable, it comes as no surprise that drastic measures are their first thought!
With the large percentage of men with ED, of course there are treatments, but it would be quite a bold statement to say it can be cured.
By definition, 'cure' leads us to believe that the issue goes away entirely and never returns. However, there are most certainly treatments for ED, some of which include simple changes to your lifestyle. Yep, aspects such as drinking too much alcohol and smoking could be the cause of any erectile issues you're facing.
Like we say, lifestyle changes may appear to 'fix' the issue, but we cannot promise you won't face erectile dysfunction later on.
Myth #7 – ED is just one single issue
When we catch the flu, the symptoms can be different from person to person. Erectile dysfunction is very much the same! Not every guy will experience the same problems – or to the same extent.
For example, one man may not be able to gain an erection at all, while another may have an erection that comes and goes. Whereas others may not be able to get hard enough to have sex.
Yep, there are some serious erectile dysfunction facts right here! ED can in fact affect men in a variety of ways.
By definition, ED is the inability to get hard and stay that way long enough to have sex – however, erectile dysfunction is frequently used to encompass several erectile problems.
Myth #8 – Erectile dysfunction is all in your head
While stress and worries can affect your performance in the bedroom, typically erectile dysfunction is health-related. The pressure to perform alone can often cause ED issues – but it's a total myth that ED is entirely psychological.
If you do experience erection problems, worrying about it can exacerbate the problem in future. All that worrying about it happening can lead it to happen again! Try speaking to your partner about the problem, and tackle any stress or worries first.
Myth #9 – ED requires a specialist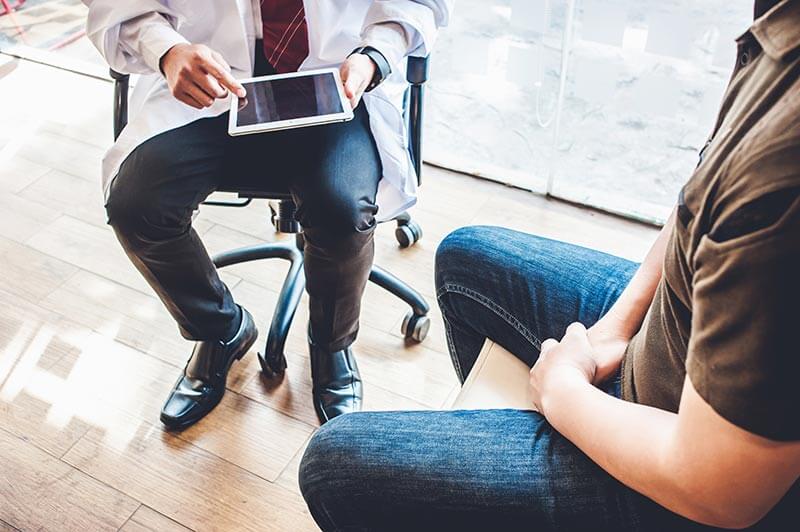 This erectile dysfunction myth is a common one, which is why many men don't seek medical advice when they have concerns! The truth is, there are some things you can do first to try and pin down the cause.
A variety of lifestyle factors could be to blame, such as your diet, alcohol consumption and smoking. If you have recently changed or started a new medication, ED is a common side effect.
While heading to your GP may not be your first thought, erectile problems could be caused by underlying health issues, such as diabetes or a health condition. It's always best to speak to a medical professional where possible to put your mind at rest.
However, it most certainly doesn't require a specialist to help.
Myth #10 – Viagra is the only answer for erectile problems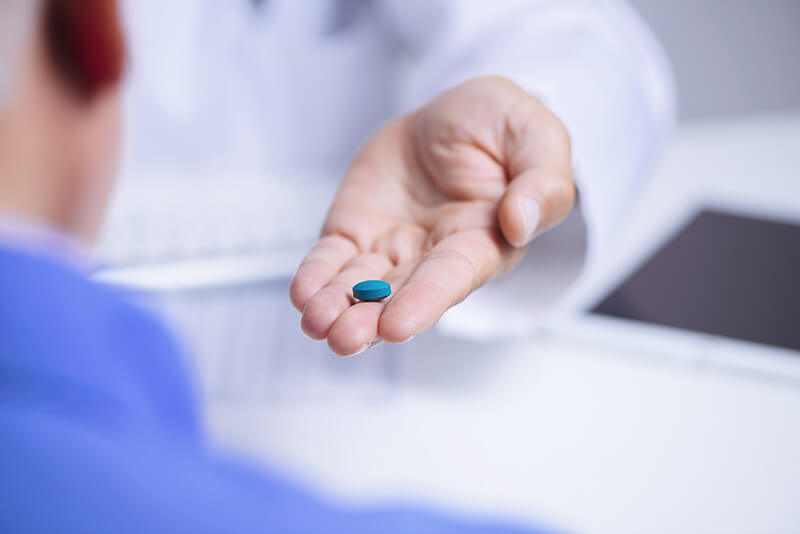 Since we've covered erectile dysfunction age, and whether ED is curable (treatable, yes!), it's about time to cover this big myth right here! Is Viagra the only answer to erectile issues? Hell no.
There are actually many options for treating erectile problems, some of which you can do yourself – such as changing a few aspects of your lifestyle. With a large percentage of men with ED, it comes as no surprise that those famous blue pills are the first thought.
However, they aren't the magic answer – oh no.
Why not try a natural male performance enhancer?
It's common to have questions regarding erectile dysfunction, but it's important to separate the facts from these popular myths, too!
Whether you're suffering from ED, or simply seeking more information, our blog is packed with plenty of advice and tips to get you started.
Looking for a natural, powerful way to enhance your performance? Viasil is 100% natural, fast acting and has zero side effects. It's time to experience stronger erections that last!