First, let's talk about erectile dysfunction (ED). As one of the most common sexual battles men face, it's important to pay attention to the stress and concern it can cause in the bedroom. For some, pornography is to blame.
When it comes to research on porn's impact on erectile dysfunction, the jury's still out. Some argue that there are positive links between enjoying porn and ED, but the matter of porn killing your boner is a little more complex.
The stress of everyday life can have a huge impact on maintaining a hard-on, with mental health and physical factors more prominent than ever.
What's the cause of erectile dysfunction?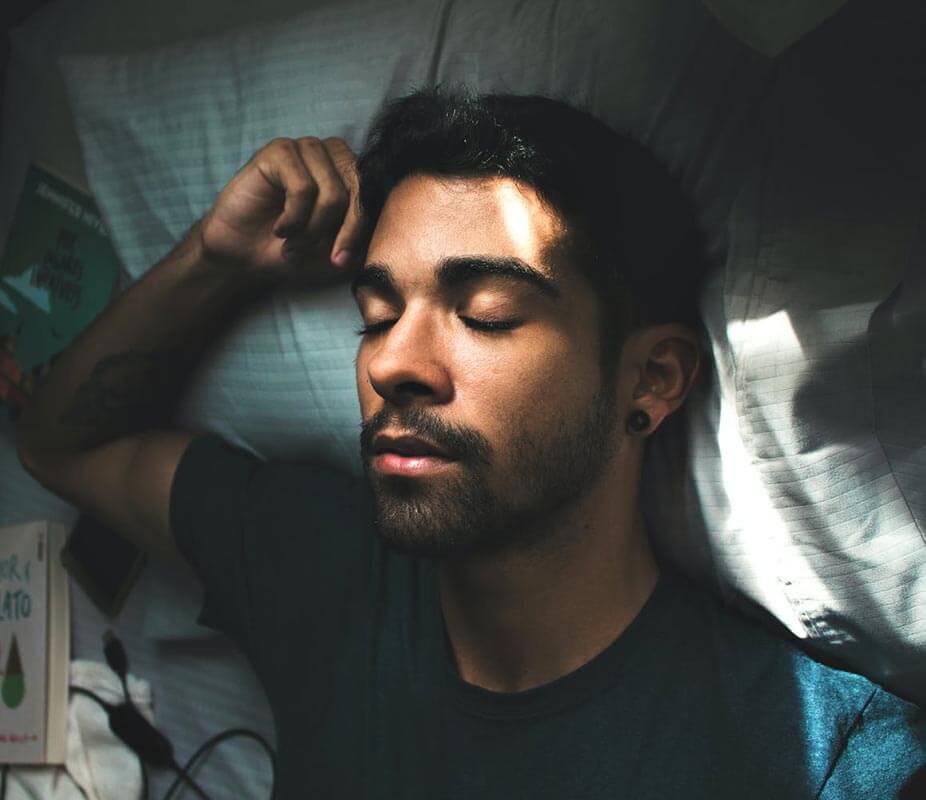 There are many factors that come into play when it comes to ED. It could be body image, relationships, diet, lifestyle or other psychological factors.
But, what about porn? A relatively controversial topic, porn has long been questioned for inducing erectile dysfunction. One study argues that an increase in younger men seeking help for ED has been caused by desensitising effects of apparent "hardcore" porn.
The study argues that a decrease in male satisfaction with their own bodies may be encouraged by pornography's amplification of harmful ideologies. In other words, seeing ripped, heavy-hung men perform like stallions in the sack can trigger sex-related anxiety.
As well as the constant comparison with incredibly ripped porn stars, the consumption of porn can affect sexual stimulation, too. Those that rely on pornography in order to feel aroused may then fall flat in the bedroom with a real-life partner.
While it may seem as though pornography is taking a beating in relation to ED, it's worth paying attention to the fact that it is one of many possible ED-inducing factors.
It can take more than taking your eyes off porn to get your dick feeling hard again, but what else can you do to improve ED yourself?
Watch less pornography (if you're consuming a lot already)
Consume less alcohol and avoid taking drugs
Avoid smoking
Keep your weight at a healthy level (this can have a huge impact on stamina, too)
Improve your diet and incorporate exercise into your lifestyle
Pay attention to your testosterone levels
A 2015 study of two large, cross-sectional studies also highlighted links between erectile dysfunction and pornography use. However, while connections may be formed, the analysis also pointed out that men who engaged in "moderate" use of internet porn reported more ED than those who in the "low" or "high" use categories.
Erectile dysfunction and its relationship with porn
Before you switch off the porn entirely, it's worth taking a peek at studies that suggest pornography could actually help ED in connection with psychological or relationship concerns.
The same study concluded that men who spent a greater amount of time watching pornography showed higher sexual responsiveness to a partner in a lab setting. This suggests that pornography – when consumed at normal amounts – could actually prepare your brain or boner for sex.
Research in support of porn's positive effects is limited, however. So before you go making your favourite porn site your homepage, consider its effects on your hard-on in the bedroom. And no, we're not just talking about your ability to get a boner when you're solo.
As we've already mentioned, there are many things beyond porn that can be the root cause of erectile dysfunction, including stress, anxiety and other psychological factors. However, men who watch a huge amount of porn may feel similar guilt or anxiety towards getting an erection with their partner.
What else can cause erectile dysfunction?
Erectile dysfunction can be the result of several factors. The issue of porn induced ED is just one route you can explore to finding the cause of your erection falling soft.
It's important to pay attention to physical ailments that can make getting and maintaining an erection more difficult. The worry or embarrassment associated with being unable to perform can trigger anxiety in itself, making the issue even worse. Think about it – When you're stressed about a particular problem, you may overthink it, exacerbating the stress itself, in turn, making the problem feel ten times worse.
If erectile dysfunction then causes problems between yourself and a partner, this too can make the situation worse.
What is secondary erectile dysfunction?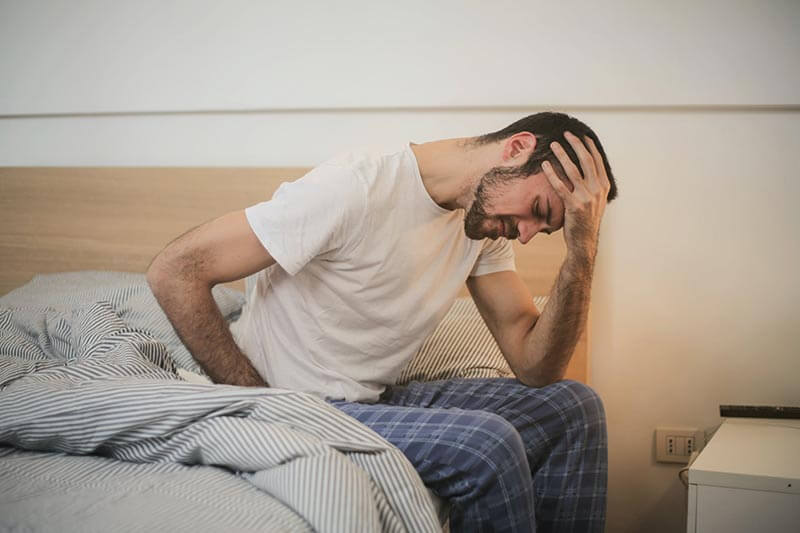 Secondary ED is the most common form of ED. This isn't associated with one night of your erection feeling weak, but more of a development of long term inability to maintain an erection.
As well as being the most common, secondary ED is more likely to be blamed on pornography. Primary ED, however, is a term used for men who have never been able to achieve a boner. This is very rare, though, and usually associated with an underlying condition.
What are the most common causes of secondary ED?
Prostate disorders
Heart health issues
Blood vessel disorders
Smoking-induced atherosclerosis – clogging those all-important arteries
Neurological damage – often due to diabetes 
Relationship issues
The occasional issue with getting hard is usually associated with stress or alcohol consumption. A common occurrence for many men, the occasional struggle to get or stay hard is unlikely to be an ED diagnosis or related medical problem.
Erectile dysfunction and health problems
When your blood vessels are restricted, it becomes much more difficult for your penis to fill with blood – resulting in weak erections or no erection at all.
A number of health issues can cause ED, whether damaging the nerves or the narrowing of blood vessels. Some of the common offenders include:
Diabetes
Atherosclerosis
Cardiovascular disease
Nerve damage
Spinal cord injury
Prostate disorders
It's worth noting that some mental health conditions can also have an effect on your boner, including depression and anxiety. If you've only recently been struggling with your erection, it could be worth investigating any medication drugs, including blood pressure pills or antidepressants as these can also play a role in achieving and maintaining an erection.
How to treat ED
Although many will argue for and against pornography in relation to ED, there is insufficient research to provide a rock-solid outcome.
If you're experiencing sexual dysfunction, seeking medical help is totally normal. In order to understand the possibility of ED, it's worth paying attention to the frequency of weak erections. If you're watching a lot of pornography but keep feeling weak in the bedroom, you may already know the cause of your inability to get hard with your partner.
If you have noticed differences consistently in your erections, whether achieving an erection or the ability to sustain it, seeking treatment doesn't need to be difficult. Healthcare professionals offer judgment-free treatment for a wide range of sexual issues, including ED. When looking for the cause of weak erections, it's imperative to look at both psychological and physical factors.
Finding the right treatment can depend on the cause of your sexual dysfunction. The mistake between psychological and physical factors can be easily made. For those who experience anxiety surrounding their sexual performance, relaxation exercises, relationship support from your partner and therapy can help dramatically.
If you watch a lot of porn, you may be led to believe that the problem is physical when you fail to perform with a partner. However, the underlying issue can in fact be psychological instead.
A range of things can help to treat ED, including:
A penis pump – Used to pull blood into the penis and help achieve a hard-on
Lifestyle changes – Such as diet change, exercise and less alcohol
A penile implant
Changing your outlook to sexuality – From performance-based to pleasure-based
Surgery to address prostate disorders or anatomical issues
Natural performance enhancers – Such as Viasil
To round up the possibilities of porn killing your boner, it's worth noting how porn can impact our psychological approach to sex. While watching the odd porn film may not be killing your sexual performance entirely, overstimulation from pornography can result in guilt or performance anxiety – leaving many men with weak erections.
Despite the frustration and concerns it may cause, erectile dysfunction is both common and treatable. Finding the right healthcare professional can help you get to the root of the cause, whether anxiety, depression or porn-induced, a specialist in sexual health can help you manage and treat symptoms entirely.