Wherever we look these days we're met with articles, adverts and social media posts about the perfect relationship. It's obvious that sex is an important part of a healthy relationship. Plus, we all love getting hot and sweaty, right?
When life gets in the way, it can be easy to prioritise sleep over sex. We love both after all. But all you need to get down and dirty some more is some new ideas…
Passionate sex is often fuelled by novelty and excitement, not Netflix and early nights. But what can you do to give your sex life a boost?
Well, there are many ways to add some extra spice to your sex life. Whether you're a fan of under-bed restraints or whips and chains, there's always room for some sexy bedroom games.
Are you ready to explore your sexuality some more? We've got 4 naughty games to really get you hot under the collar.
1. What's the item?
Having spent many months indoors, we've all learned to be a little more resourceful. This kinky game to play with your spouse simply involves items from around your home. Whether it's a feather, leather belt, ice cube or the cord from your bathrobe, simply trail the item across your (blindfolded) partner's skin.
Also Read: How Many Calories Does Sex Burn?
The longer it takes to guess, the further south you go, it's as simple as that. Or why not bring a sexy punishment into the mix?
This naughty game is super easy, fun and involves little planning – but don't underestimate the orgasms.
2. Truth or dare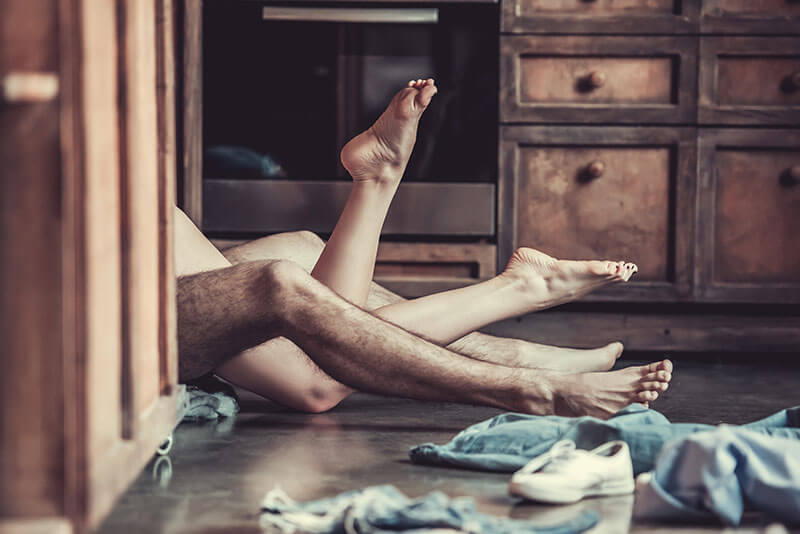 This sexy bedroom game is straightforward and has one simple requirement: Imagination. Now's the time to crack out those questions you've always dared to ask, whether you want to uncover sexual fantasies or ask something you've always dreamed about.
If you prefer, ditch the truths and stick to dares, raising the stakes as you go.
Start off with simple sexual dares, choosing a suitable punishment if either of you passes up on your go. Make it as dirty as possible!
Remember, risk and novelty is key here. Switch up the sexual power in your relationship, daring your spouse beyond your usual sexual pleasures.
Not sure what to dare in this naughty game? Try one of the following, I dare you to…
Do your best fake orgasm
Try sing the chorus of a song you've had sex to
Put a blindfold on and kiss whatever body part put in front of your mouth
Remove a piece of my clothing with just your mouth
Touch yourself in a way you've always wanted to be touched
First time playing sexy bedroom games? Be sure to set some boundaries before you begin.
3. Imagination time
For many of us, picturing sex is enough to get us hard. Research has shown that reading or listening to erotic fiction is often preferred over watching porn. But if you're struggling to picture the perfect sex scenario, why not allow your favorite dirty movies to give you some inspiration?
Also Read: What Is Edging – Orgasm Control and Other Sex Benefits
This naughty bedroom game allows you to get off together with just a little dirty talk (and a TV!). Start by laying on your bed together and blindfolding your other half. Put some porn on your TV or laptop before muting the sound and describing what's happening in graphic detail.
Keep touching to a minimum until you both can't take much more!
4. Role play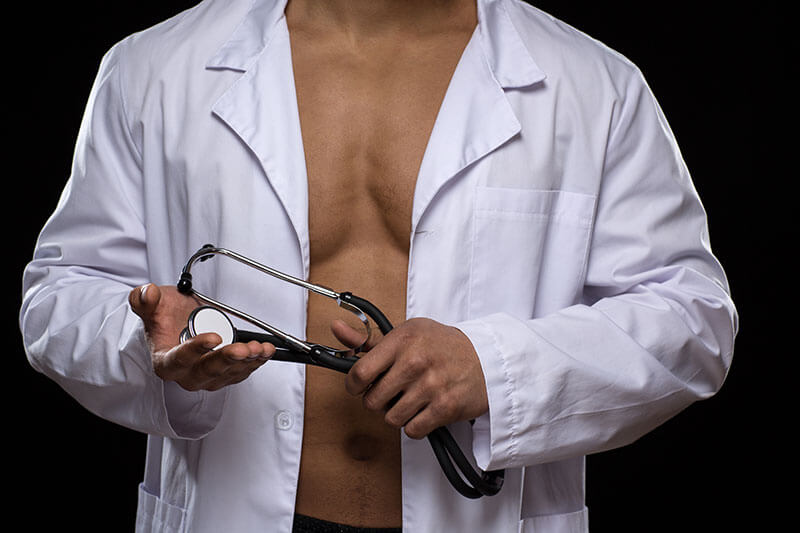 When it comes to kinky games to play with your spouse, role play is an absolute must. Whether you're a sucker for power or you prefer submission, adopting the role of a character can be a sexy bedroom game for both of you.
Taking on this new role can be incredibly exciting, giving you the chance to drop any sexual hangups or feelings of apprehension. It's time to open up your mind to new ideas of pleasure, using your imagination and dirty talk to play out a sexy scene. If you really want to get into it, try introducing some naughty outfits into the mix.
Also Read: How To Increase Your Stamina – 21 Tips for Better Performance
Let's face it, it's fun to mix up power dynamics every now and then! And there's nothing quite like getting frisky on your dining table to channel those office vibes.
Unsure what roles to try? We've got some ideas to get you started:
The mysterious stranger – If you've ever locked eyes with a stranger and instantly pictured them doing the dirty, this will be right up your street. Treat your partner's body like you've never seen it before and experience wild, frantic sex.
The happy ending – It's true, some massages do end incredibly well. Massage your spouse and get them as hot and horny as possible, without getting them off (yet).
The doctor/patient scenario – Got a thing for medical professionals? Whether it's a doctor or nurse, this roleplay is a popular go-to for many naughty games.
The first time – Losing your virginity may not have been your favorite moment, but it's most certainly a fun one to recreate. It's time for a sexual throwback!
Looking to enhance your performance?
Sexy bedroom games are great for giving your sex life a boost, but it's not always easy finding the energy to perform.
Viasil's 100% natural and fast acting formula improves your sex drive and enhances your stamina, so you'll always be ready to rise to the occasion.