As men, we're relatively easy to please. While some positions may result in more intense orgasms than others, we also need to ensure our partner is left with trembling legs.
So, what can you do? Well, aside from teasing her clitoris, fondling her breasts and kissing her all over (all much appreciated by us, and her, hopefully), knowing how to hit the g spot is key.
For a more intense, explosive orgasm, sex positions to hit the g spot will take your partner's pleasure to a whole new level.
Sure, sex is great, but those sheet-grabbing, leg-clenching orgasms achievable by hitting her g spot is something else.
It's time to talk about g spot sex positions, my friends, so let's dive into the good stuff.
How to hit the g spot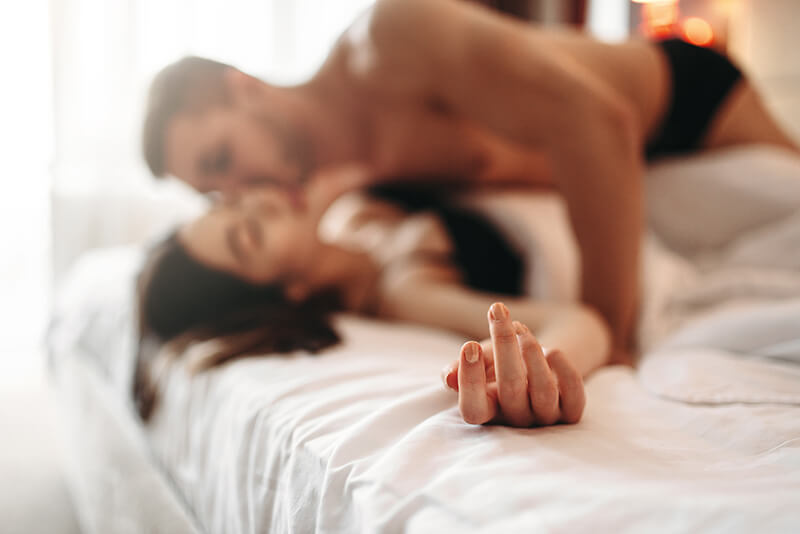 Before we jump into positions to hit the g spot, we first need to talk about where it is.
Many men aren't really sure where they're heading, making knowing how to hit a woman's g spot so much harder. You could be trying every sex position under the sun, but if you don't know where your target is, you're never quite going to hit that sweet spot.
A woman's g spot is located roughly 2 to 3 inches inside her vagina and can usually be found far easier when she's already aroused. The more aroused she is, the easier it will be to hit during sex.
However, it's important to understand that every woman is different. When it comes to g spot sex positions, not every move will work for her. Much like the way we experience different 'ordinary' orgasms, some women find g spot orgasms far more intense, while for others it may be guaranteed squirting, or even the same as her 'usual' orgasm.
Don't get disheartened if she's not bouncing off the ceiling, you may just need to experiment a little more. Terrible, huh!
Now, let's take a look at the best sex positions to hit the g spot and keep her coming… Back for more.
What's the best sex position to hit the g spot?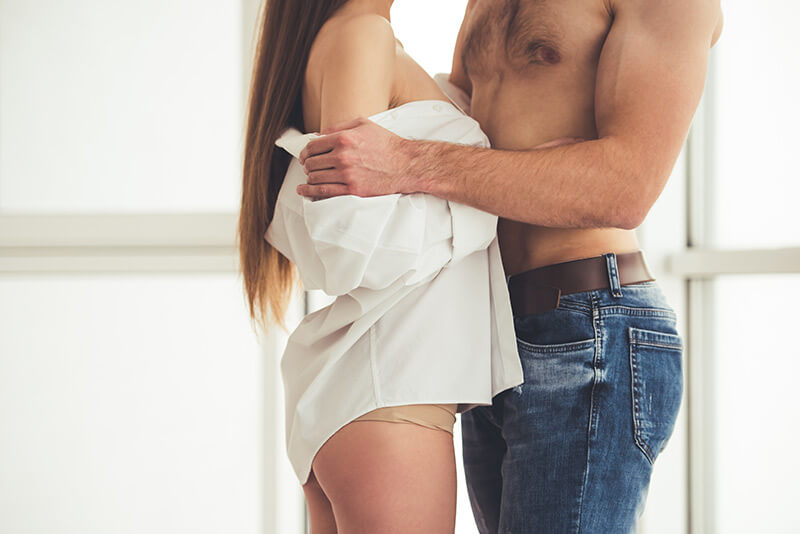 While some of these gspot sex positions are a little easier to grasp, some may take some experimentation to get right!
Finding the best position for g spot stimulation is all about communicating with your partner and having fun along the way.
Without further ado, here are our favorite sex positions to hit the g spot.
The Lean Back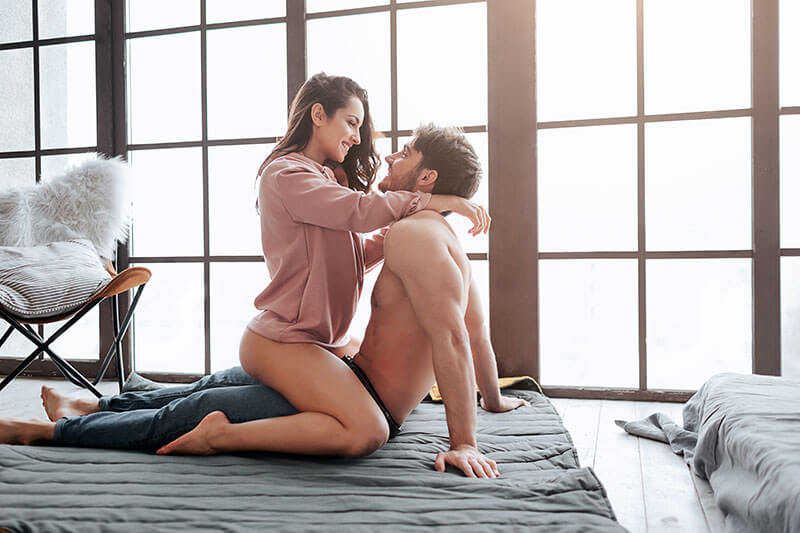 Easily one of the best sex positions to hit the g spot, The Lean Back takes a lean (quite literally) on the Cowgirl position.
In order to hit the g spot, start this sex position with your partner on top, with her hands on either side of you to support you both. As she leans back, she will naturally create a 45-degree angle with her legs, helping you to hit her g spot.
Rest assured, if you have a slight bend/curve in your cock, you can still do this move. Simply adjust how far she leans in order to hit her vagina's upper wall – aka the sweet spot!
The Kneeling Thrust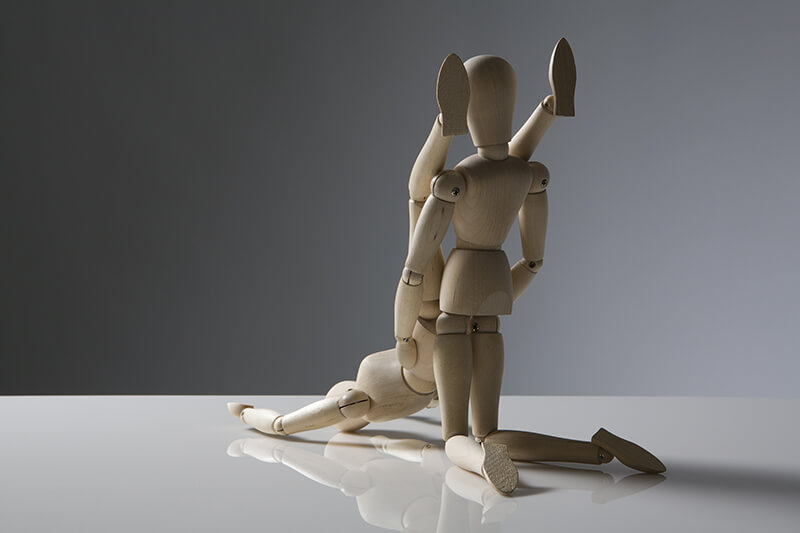 When it comes to the best sex position to hit the g spot, The Kneeling Thrust is most certainly a fun one! To do, start with your partner laying in front of as you kneel between her leg. You can then rest your weight on your feet/legs.
Put your hands under her and move her up onto your lap as you kneel – and you got it, thrust.
Also Read: How Many Calories Does Sex Burn?
To maximize this gspot sex position, lift her legs, placing them on your shoulders.
The Spoon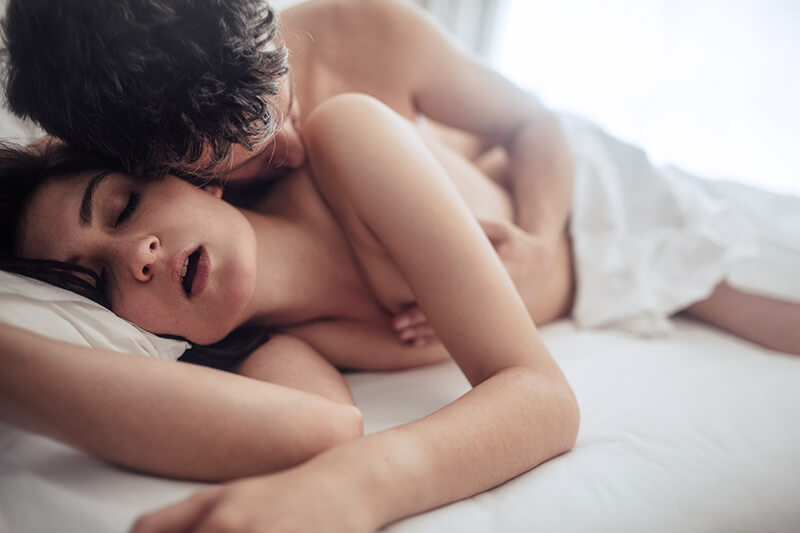 Many of us love to spoon at night, but did you know that The Spoon is considered one of the best positions for g spot stimulation? If you're looking for a relatively easy ride, The Spoon will allow you to be close to your partner, while stimulating her g spot.
Oh, and did I mention, you can easily kiss her neck and tease her clit during this position? I mean, what more could you ask for?
To make it easier to find her g spot, start by giving her a clitoral orgasm. Then you can begin to work in those deep penetrations. As far as positions to hit the g spot go, The Spoon is easy for both of you. Plus, you're both in control of how deep and how fast you go.
Doggy Style 2.0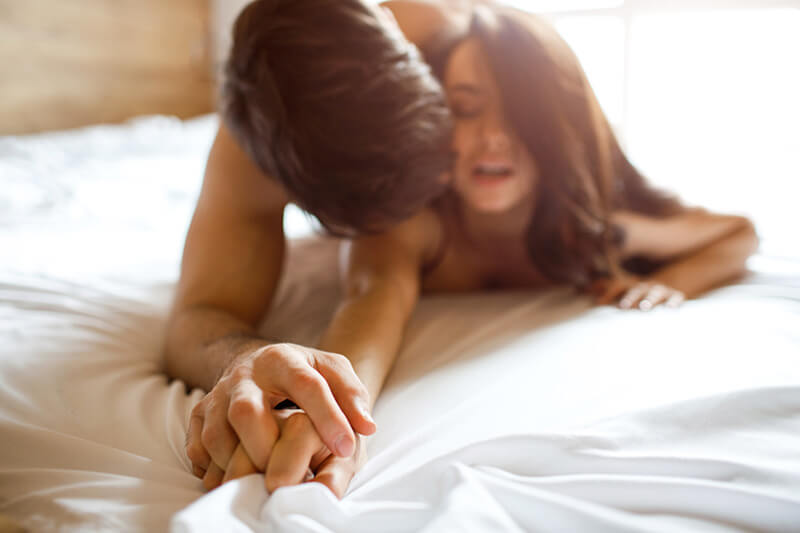 Similar to the ever-popular doggy style, 2.0 works a better, deeper angle for you both. Instead of your partner on all fours, this gspot sex position requires her to slide her body downwards.
From here, you can almost lean over, resting your hands on either side of her. This will allow you to reach that front wall much easier, with deeper strokes for that big O.
100% NATURAL MALE PERFORMANCE ENHANCER
With just one pill a day you could reignite your sex drive, experience stronger erections that last, and enjoy improved stamina and endurance. Viasil is 100% natural, safe, and fast acting. So you know you can confidently rise to every occasion..
The Facing Spoon
Instead of facing towards her back, start by facing one another. Much like the original spoon, this is one of the easiest positions to hit the g spot. Especially since neither of you is needing to hold up your bodyweight!
Your partner can take control of this sex position, adjusting and tightening her legs to allow you to go deeper and hit her g spot.
Unsure how to hit the g spot? Start off slow with The Facing Spoon before heading into even trickier g spot territory!
The Relaxed Cowgirl
We all know what the Cowgirl position looks like by now, right? Well, think of this as the 'relaxed' or 'supported' version. While your partner straddles you, bend your knees to support her from behind.
This will work wonders for perfecting the right angle to hit her g spot, and give her some support to push against (if needed!).
Alongside Doggy Style 2.0, The Relaxed Cowgirl is easily one of my favourite sex positions to hit the g spot.
The Rocking Dog
Easily one of the best sex positions to hit the g spot, The Rocking Dog combines the famous 'doggy style' with a slight rocking motion.
But instead of your partner positioned straight on all fours, allowing her shoulders to rest slowly downwards with her weight on her forearms. Bring her butt up towards you, while tucking your knees between her legs. If you lean forward a little, you'll have plenty of opportunities to tease her nipples or her clit at the same time.
Use this opportunity to rock her from side to side as you go deep and hit that g spot!
Unsure how to hit the g spot with this move? Keep experimenting, you'll both know when it feels good!
The Side Straddle
This one may feel a little like a game of Twister, but rest assured, it's worth it! Easily one of the best gspot sex positions, The Side Straddle goes a little like this…
Start with your partner on her side, as you kneel straddling her right leg. Allow her left leg to curve its way around you. Believe me, as she tightens her grip, it's pretty damn hot!
Now only is this one of my favorite sex positions to hit the g spot (well, aren't they all!) but it also leaves room for a little clitoris teasing too.
The Yoga Pro
If your partner is feeling flexible, this move will definitely benefit you both! After this, you won't question how to hit the g spot ever again!
Also Read: 9 health benefits of sex for men
Get ready to go deep, with your partner on her back and legs, um, above her head. It's called The Yoga Pro for a reason…
If you can, cross her ankles above her as you enter from the missionary position. This is easily one of the HOTTEST positions to hit the g spot. Not sure about going so deep? Or not feeling quite so flexible? No problem, experiment along the way and see what works for you both.
Get ready to hit the g spot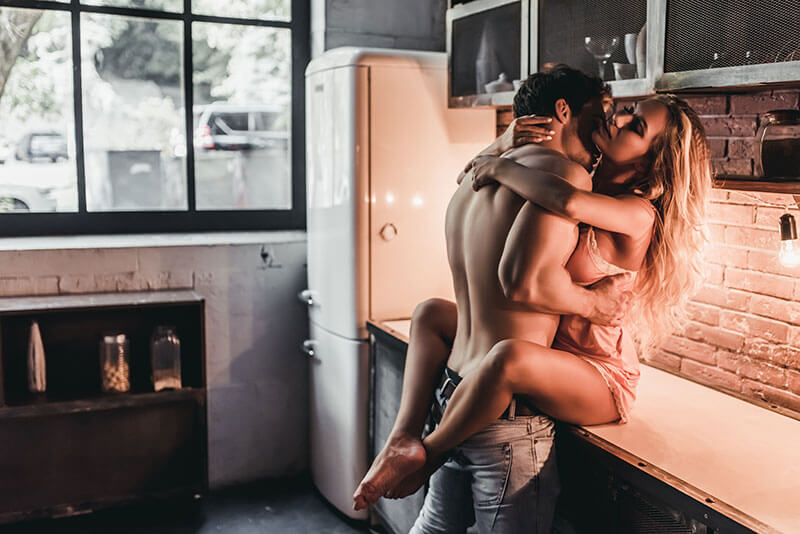 With these sex positions to hit the g spot, you'll both soon be a sweaty mess!
Of course, some of these moves are easier than others. So don't be afraid to test the waters and see how you go – especially before trying the last position on our list.
Looking for a confidence boost? Viasil's 100% natural ingredients work to fight back against erectile dysfunction, improving your sexual performance with increased stamina for long-lasting sex, with confidence.