Stress can affect our bodies in different ways. Not only does stress vary greatly from one person to another, but how we manage and respond to stress differs hugely.
Some of us can manage day to day stress quite well, while others can find that everyday stress can quickly escalate into a long term problem.
However, the impact of stress on our bodies is one we all worry about, especially when men question whether stress can cause erectile dysfunction.
The associations between stress and ED and anxiety and ED leave plenty of room for further investigation – so let's take a closer look.
Can stress cause erectile dysfunction (ED)?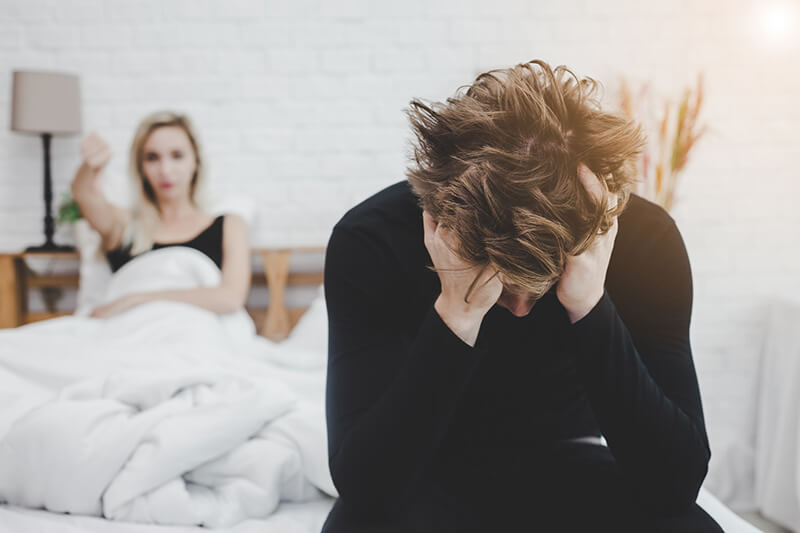 Although there are many myths surrounding ED, as we naturally age the risk of ED increases. However, erectile dysfunction is possible at any age, and can often be the symptom of underlying health problems – including stress.
In fact, studies have shown that psychological factors are the most common cause of erectile dysfunction. This means that psychological causes, such as emotional factors – including stress and anxiety – are usually curable.
When it comes to erection anxiety, it can very much be a vicious circle. You feel anxious and experience erectile dysfunction, damaging your sexual confidence. Then, when it comes to your sexual performance, the anxiety surrounding the possibility of ED causes further erectile issues.
Also Read: 9 health benefits of sex for men
When you suffer from severe stress, sex can be the last thing on your mind. Let's face it, none of us feel sexy after a headache of a day, week, or even a month of chronic stress.
Increased stress levels can also cause further harm to your health, leading to:
Obesity
Heart disease
High blood pressure
High cholesterol
Excessive alcohol consumption
These, in turn, can create nervousness regarding erectile dysfunction, causing a knock-on effect with stress and ED.
Can anxiety cause erectile dysfunction?
Although we typically believe our erections to all be the same, we actually experience three types of hard-ons.
Reflexive – As a response to physical stimulation
Psychogenic – Visual or mental associations, such as watching porn
Nocturnal – Erections during sleep
All of these erection types involve important processes in the body. If any of these register a disruption, erectile dysfunction can occur. These include:
Emotions
Hormones
Muscles
Blood vessels
Nervous system
Our bodies require certain brain messages in order to gain an erection, with your brain telling your penis to allow extra blood flow – resulting in a hard-on.
Stress and ED is a common combination, since stress and anxiety can affect your brain's signals and your body's response.
Put simply, your brain and penis need to be able to communicate, and this communication be disrupted by stress and anxiety.
Erection anxiety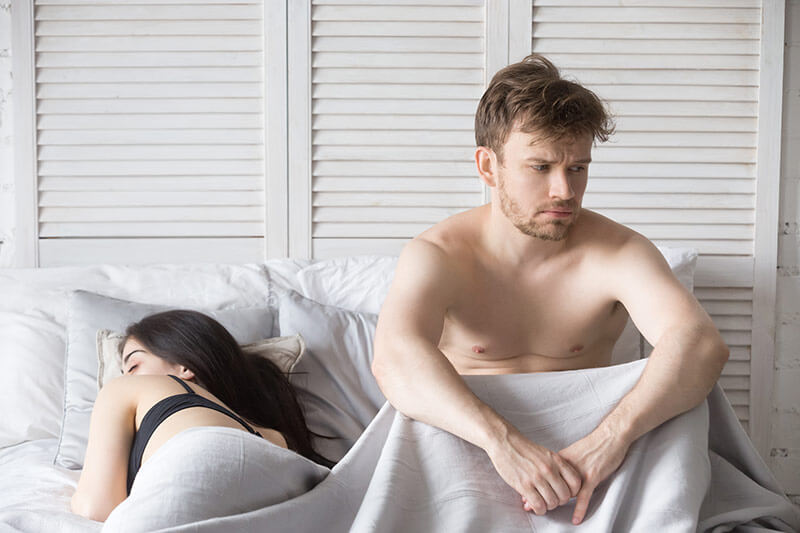 Although many men experience erectile dysfunction, with some cases being the result of too much alcohol – Hello whiskey dick! – stress and ED can be a long term experience.
When a man experiences problems in the bedroom, anxiety and the stress associated with experiencing ED can contribute to ongoing ED. Experiencing erectile issues alone is enough to lead to anxiety and ED issues on an ongoing basis.
While there are many causes of erectile dysfunction, erection problems typically follow:
Psychological ED – Nervousness erectile dysfunction, affecting 90% of teenagers and young men. This type of ED tends to be situational and short term, with anxiety and ED causing problems infrequently.
Stress and erectile dysfunction – Whether it's our personal lives or stress from work, stress can cause erectile dysfunction in many men.
Physical impotence is a common ED cause for older men, however, the stress and anxiety we may face in our adult life (such as losing a partner) can cause psychological stress.
If you experience erectile dysfunction, worrying about it occurring again can lead to further ED problems.
Try to be open with your partner and communicate any concerns you may have. Anxiety and ED go hand in hand, with the worry of it potentially happening causing ED problems.
Stress and ED
While we cannot rid our entire lives of stress (as much as we'd like to!), managing stress is incredibly important for a healthy sex life.
There are many factors in life that we can and cannot control, leaving many men questioning whether stress can cause erectile dysfunction, both short and in the long term.
Stress and anxiety can in fact lead to ED, and may be the result of:
Worrying about ageing
Recent health changes
Money worries
Illness or losing a loved one/friend
Relationship troubles
Issues at work, losing a job or general work stress
The link between stress and ED isn't just an obvious one reported by men, but it has also been shown in many studies. One study of veterans with PTSD found that posttraumatic stress disorder increased the chances of experiencing ED by more than three times!
Since chronic stress and anxiety long term can increase specific hormones in the body, it comes as no surprise that stress and ED and anxiety and ED go hand in hand.
This disturbance in your body's processes can also lead to other health problems, which may in turn cause erectile dysfunction.
Health and ED: How health impacts ED, anxiety and stress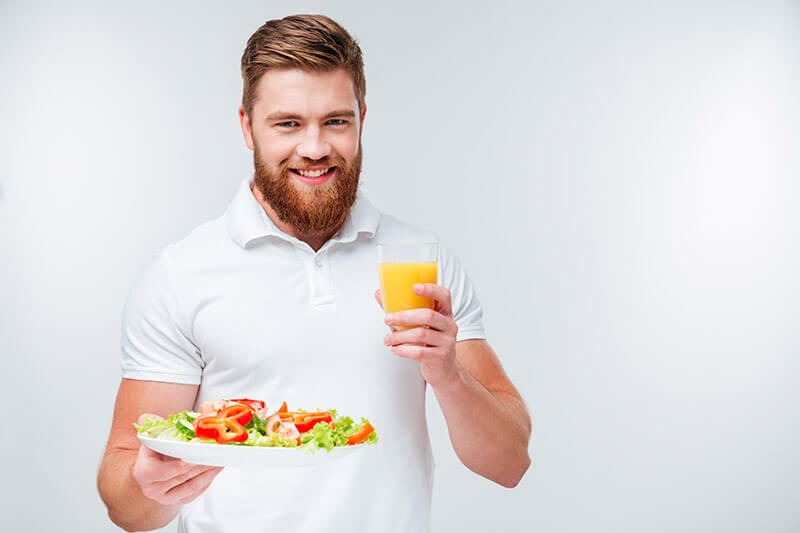 Many of us worry about worrying. When we experience erectile dysfunction, we get anxious about it happening again. That anxiety can cause erectile dysfunction all on its own, resulting in erection anxiety.
However, we all know stress isn't good for our health or mental wellbeing. Both stress and anxiety can get worse in the long term, developing into further health conditions. With one study suggesting that the severity of ED may put men at higher risk of potential cardiovascular diseases.
Since we frequently view erectile dysfunction as a symptom of underlying health conditions, there are many other health concerns linked to ED:
Obesity
Heart disease
Nerve damage
Diabetes
High blood pressure
High cholesterol
Metabolic syndrome
Low testosterone
Vascular disease
Prostate cancer or enlarged prostate
Some prescription medications
When we suffer from stress and anxiety, it can also lead to lifestyle factors that then contributes to ED, such as smoking, drinking a lot of alcohol, illicit drug use or simply being a couch potato.
Treating ED by easing anxiety and stress
Although it can be difficult to break the cycle of anxiety and ED, or stress and ED, easing stress and anxiety isn't impossible.
One option for working through any psychological causes of ED is to speak to a therapist. 
This will help you to address any major causes of stress and anxiety, improving the management of stress/anxiety. If you prefer to speak to somebody you know, confide in a close friend or family member, opening up about any worries or concerns you may have.
Also Read: How to Arouse a Man With Low Testosterone
Of course, you can also speak to your partner! Communicating your stress, whether about your relationship, work, money or another stress factor in life can improve your relationship and help strengthen your bond. Plus, you're less likely to experience stress and ED, when you are able to identify and address any major issues.
Sex therapy – If you have erection anxiety, or stress and erectile dysfunction, it can be difficult to address these problems on your own. In this case, you could consider sex therapy, focusing on sensational pleasure over arousal, reducing stress factors by concentrating on a secure and steady sex life.
Looking after your mental health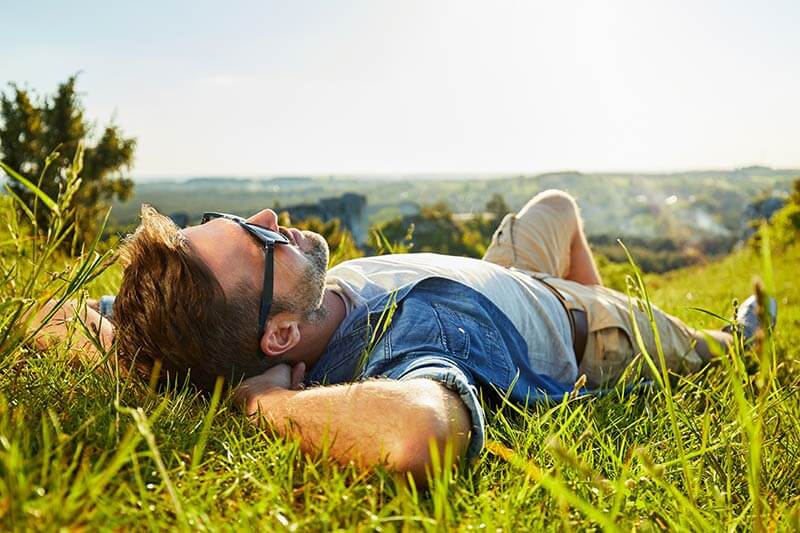 There is a multitude of ways to help improve your mental health. With some treatments including:
Meditation
Yoga
Acupuncture
Relaxation techniques
All of which may help you to manage your anxiety and stress levels, therefore improving your overall health and potential risks of ED.
Natural ways to improve stress, anxiety and ED
Although stress and ED and anxiety and erectile dysfunction can be difficult to overcome – especially without knowing the root cause – there are a variety of natural foods and herbs that can improve your mental health and your sexual performance.
These supplements include:
Panax ginseng – A Chinese and Korean herb that comes in tablets or cream form
Black maca – A root vegetable that can help ease stress and improve sexual performance
Kava – A natural plant that can help ease anxiety and improve overall mood
Chamomile – A plant that can help alleviate anxiety
However, before trying any herbs or supplements, speak to a medical professional if you have any health concerns. For example, Kava is recognised to cause liver damage and is banned in several European countries. Of course, pay attention to those that have been controlled by U.S Food and Drug Administration (FDA) to ensure their safety.
Looking to increase your energy and improve sexual performance?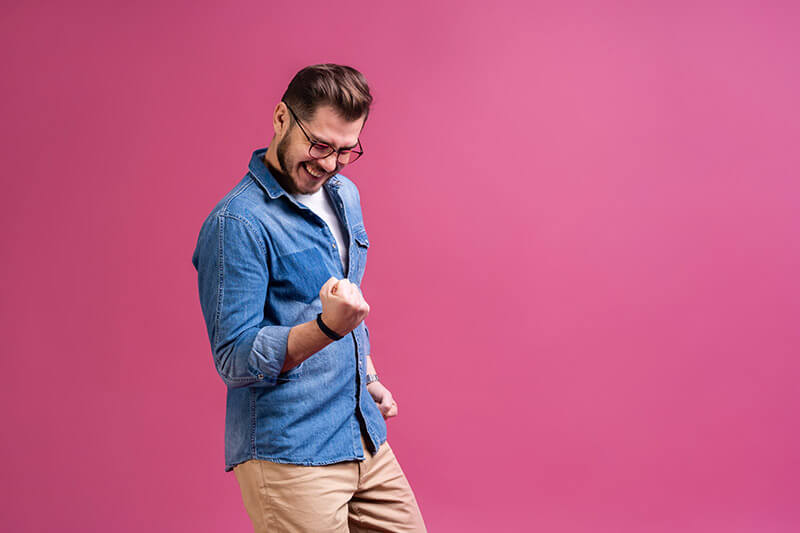 With just one pill a day, Viasil's powerful, 100% natural formula has zero side effects and many, many perks. Fast acting and totally natural, you can experience improved stamina and endurance, as well as lasting, harder erections.
Say goodbye to erection anxiety and get your mojo back in the bedroom by reawakening your libido and renewing your confidence!