When you hear the word 'cock ring' you think sex toy, right? Well, there is much more to them than enhancing your sexual pleasure.
Sure, they may be the epitome of sex toys, but introducing a penis ring into the bedroom can also help to: boost your performance; revitalise your erections and make erectile dysfunction a thing of past. Join us as we discover how to use a cock ring and the various benefits they can bring to your sexual health.
What Will You Learn?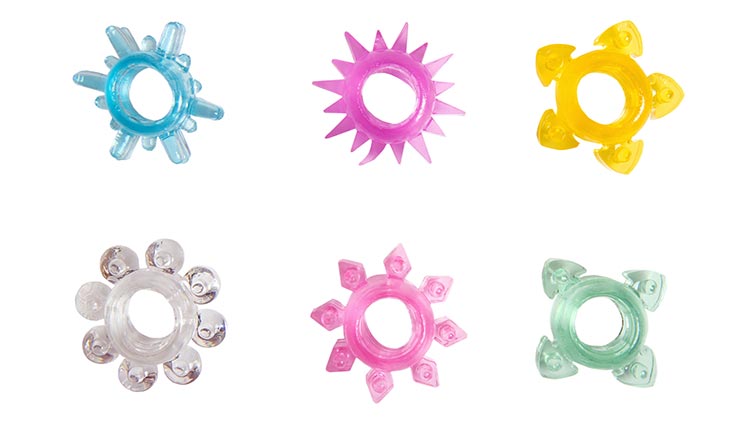 What Is a Penis Ring Aka Cock Ring?
Like we mentioned above, there is much more to cock rings than meets the eye.
Don't get us wrong. Typically, they are a vibration tool that is designed to stimulate her clitoris and heighten your sexual gratification. Yet, their unique design can also help to strengthen your erections, boost your erection size and enable you to last longer during sex.
They achieve this by applying pressure around the base of your penis, which not only helps to squeeze your blood vessels, but will also keep blood 'trapped' within your shaft. And when that happens, you can benefit from fully engorged erections that are bigger, harder and designed to last.
You could say they are a guaranteed erection maker, as there will be no danger of blood escaping or your erections failing. Instead, it will only drop once you remove this cock ring.
The Science:
Most cock rings are made from silicone, are one size and because of this, should be worn behind your testicles. However, for the kinkier amongst you, you'll be happy to know that there are also metal, leather, rubber, plastic, Velcro and even rope penis rings out there. Yep, rope, metal AND Velcro – yikes!
But remember… most penis rings are used as sex toys, so these design choices shouldn't be THAT surprising.
That being said, if that is not your intention, then the good news is – you've got even more designs to pick from.
As well as the above, you can also benefit from adjustable penis rings – which is handy if you're worried about sizing; as they will enable you to control your constriction levels. Too tight and you can simply loosen them to a bearable level. Perfect!
What Does a Cock Ring Do?
In many ways, penis rings perform the same job as constrictions bands (that are used on penis pumps). True, your journey to becoming erect is different with them both, but fundamentally they are the same.
With penis pumps, the vacuum pressure they create draws blood into your shaft, helping you to become erect. While with cock rings, you're pretty much on your own when it comes to getting erect in the first place.
Yet, once you're actually engorged, both aim to trap blood in your shaft, so you remain rock hard, erect and ready for action.
Hell, they can even help to heighten your orgasms as: 1) you'll have a longer window to build up sensation and tantalise your senses, and 2) they force your penile muscles to work hard to push out ejaculate. And the harder they contract, the more intensely powerful your orgasms will be! Even more so when you add vibrations into the equation.
Even after you've cum, you can benefit from a firmer, stronger and engorged dick – brilliant!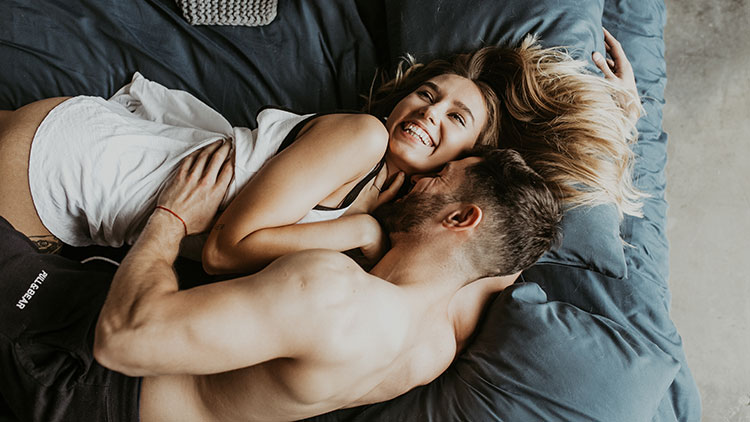 Penis Rings Benefits
We touched on a few of their benefits briefly in the section above. But to help paint a clearer picture of what to expect should you choose to learn 'how does a cock ring work'; then here are some of its highlights:
·         Help you to maintain an erection – this is easily the biggest perk to using a cock ring because it can help you to overcome erectile dysfunction and premature ejaculation.  By simply trapping blood inside of your shaft, you can arguably remain erect until you are completely and utterly satisfied.
Likewise, its tight-fitting design – and the way it rests at the base of your dick – can also help to stop venous leakage (a type of ED where the tissues in your penis fail to lock in blood and prevent it from escaping when you're aroused).
·         Boost your confidence – imagine being able to walk into the bedroom, 100% confident that you can keep it up – it would be amazing, right?! Instead of stressing or worrying about your performance – which can worsen ED – you can eliminate all forms of anxiety, as you will be 100% relaxed and able to focus on satisfying your partner.
Plus, your partner never has to know the real reason behind this cock ring. Instead, they will instantly think that you're adventurous in bed.
·         Delay and intensify your orgasms – cock rings have become increasingly well-known for helping to delay ejaculation. It achieves this, by compressing the area around the base of your penis and testicles – which is another tick in our 'yes' box, as the longer you last, the powerful your orgasms will be.
Instead, you'll both feel the high of heightened sensation. Yes, please!
·         Better, more gratifying sex – you're not the only one who'll enjoy stronger orgasms. Opt for a vibrating cock ring, and the combination of your thicker, harder cock with increased longevity – on top of these vibrations stimulating her clitoris – will make her chances of coming even greater.
Can a Cock Ring Help You Get Harder Erections?
We've said it once and we'll say it again – there is much more to cock rings than meets the eye. Beyond their rep for being pleasure enhancers (for men and women); these simple yet effective devices have the power to eliminate erectile dysfunction.
Similar to constriction bands, their purpose is to trap blood in your cock, making it impossible for you to go limp once you've got it up. Instead, they can improve the strength, thickness and virility of your erections, as you'll have full control of when you let these extra blood flows leave your penis.
Think about it…
When you become sexually stimulated, your brain sends signals along your nerves ordering more blood to rush to your penis. Once there, they enter your corpora cavernosa causing your penis to rise and become engorged with blood. And in doing so, you're left with a thicker, longer dick that is ready to please your partner.
Now, what cock rings bring to the table is longevity. Their positioning at the base of your dick applies just the right amount of pressure (to your blood vessels) to not interfere with your pleasure, but enough to ensure that you don't suffer from venous leakages.
Instead, this blood will effectively become 'trapped' within your corpora cavernosa until after you're ready to release it. At the same time, by reducing the rate at which blood leaves, your penis will be holding onto larger amounts of blood – all at once – equalling a much thicker, harder erection.
NOTE: when we say 'trapped' we don't mean completely cut off – otherwise, blue balls would take on an entirely new meaning. No, what we really mean is that these rings will slow down the rate at which blood leaves your penis, helping to instantly increase your erection sustainability (as your penis will be able to retain this blood for longer).
A word of caution: while there is no disputing that wearing a penis ring can enhance the hardness of your erections; it is not an absolute solution to ED. Realistically, you should pair it with other erectile dysfunction treatments i.e. Viasil, to help maximise its effects and ensure you achieve optimum results.
How to Put on a Cock Ring?
Step One: Choose a Cock Ring That Suits Your Needs
Before you get into the logistics of how to use a cock ring; it is important that you first pick one that suits your needs. Is it just about your pleasure? Or is your goal to harden your erections and stop yourself from coming prematurely?
Step Two: Location
Most cock rings ask you to wear them around your cock and testicles i.e. behind your balls – which is the best location, if your mission is to get a harder erection. Worn like this, the penis ring will be in a better position to squeeze your blood vessels, while intensifying stimulation.
However, there are some that may ask you to place the ring just around your shaft. For this reason, check their 'how to wear a cock ring' instructions first to ensure you buy the right one.
In either case, you should aim to place the cock ring as close to the base of your penis as possible.
Step Three: Timing
Timing is everything when it comes to learning 'how does a cock ring work'. You see, whilst you might think that you need to be fully erect when you put it on – to ensure maximum blood retention – the truth is, with many of them, you should only put them on when you're either flaccid or semi-erect.
So basically, its design will affect when you put it on.
Step Four: How to Use & Put on a Cock Ring Properly
For greater ease, we recommend taking a hot shower/bath first (to increase blood flows) before spreading a small amount of lube onto the inside of the ring. With a basic cock ring, you will then be able to slide it down to the base of your shaft.
Now, if you've picked one that is designed to surround just your shaft, then all you need to do is slide it down and then you're done.
If, on the other hand you have opted for a penis ring that needs to go around both your cock and your balls, then we suggest that you place one testicle through the ring at a time. Once they are comfortable within the ring, you can then push the rest of your penis through.
NOTE: remember how we discussed different designs influencing how to wear a cock ring? Well, their application will be affected by the type of cock ring you choose. To help, take a look at this quick summation:
·         Penis ring – make sure you're erect first, before slipping it over the head of your penis and rolling it down to your base.
·         Penoscrotal ring – put it on whilst you're flaccid and push your testicles through one at a time, before folding the head of your penis down towards the ring and pushing it through the ring. Once through, pull the rest of your shaft and let it rest at the base of your cock and balls.
·         Testicle ring – if you're a beginner, start off with a lightweight version and begin by putting your testicles in first (one at a time). This is designed to hang on top of your testicles and sit at the base.
Step Five: Duration
Not only do you have to ensure that you don't constrict your blood flow too much, they should only be worn for 20-30 minutes at a time.
There are some that can be safely worn for up to an hour (with a properly fitted cock ring and a constant erection); however, should it ever feel too tight, uncomfortable, cold or begin tingling, then you should take it off straight away. Likewise, you should never fall asleep wearing it, as you risk damaging your penis.
Step Six: Other Top Tips
·         Shave off your pubic hair to prevent any painful snagging
·         During sex, opt to stand or be on top. This will help to pull more blood into your penis because of gravity.
·         If you're struggling to orgasm while wearing it, take it off just before you come. This can help heighten pleasure.
Different Types of Cock Rings
Okay, you are now well-versed on how to use a cock ring, but what are your options?
Adjustable Rings
These types of penis rings use Velcro, snaps, D-rings and adjusters to help you wrap them around your dick and keep them in place. These should be worn underneath your testicles and around your penis.
Stretchy Rings
Made from soft silicone, these are the most popular cock rings around, as their design comprises of a closed circle that are you able to stretch and wrap around your penis and testicles. This means you don't have to worry about snaps or scratchy Velcro irritating your dick.
The only downside is that for some people, they might not be tight enough and you can't adjust them.
Vibrating Rings
These contain a small motor that sends vibrations into you and your partner. Admittedly, this design perk is there for your partner; however, these vibrations can heighten your sensation too.
Unlike their brothers though, this cock ring should only be worn at the base of your shaft.
Solid Rings
Made from metal or steel, this cock ring is better suited for more experienced users, and should only be worn at the base of your penis and behind your testicles.
NOTE: a word of caution with these. As they are not adjustable, there is a risk of penile damage should you find that your girth is greater than the ring.
Are Penis Rings Safe to Use?
The majority of the time, yes there are. It is just a matter of you bearing in mind the following points before you buy.
1.    How well does it fit? You want a cock ring that is tight enough to support your erections, but not so tight that you lose sensation in your dick. To get around this, try using either an adjustable ring or one made from stretchy silicone, as you'll be able to adjust these to your size.
2.    Duration – like we mentioned earlier, most should only be worn for 20-30 minutes at a time. Any longer, and you risk permanent injury or worse gangrene from prolonged reductions in blood supply to your dick.
NOTE: watch out for feelings of numbness, pain, swelling/bulging or your skin changing colour. If this happens, remove straight away.
3.    Manscape – to prevent painful snagging between the ring and your pubes, make sure you shave down there before you put it on.
Conclusion
Cock ring, penis ring… whatever you want to call it; there is no denying that learning how to wear a cock ring can make a massive difference to your sex life. With one simple device, you can ramp up your bedroom performance and minimise erectile dysfunction.
Our only recommendation is to not rely solely on cock rings. While they can help strengthen and boost the longevity of your erections; pair it with other proven ED treatments such as Viasil, and you can tackle this issue from the inside AND from the outside.
For more information on how Viasil can support testosterone and nitric oxide production – which are essential for a healthy erection – visit our site.